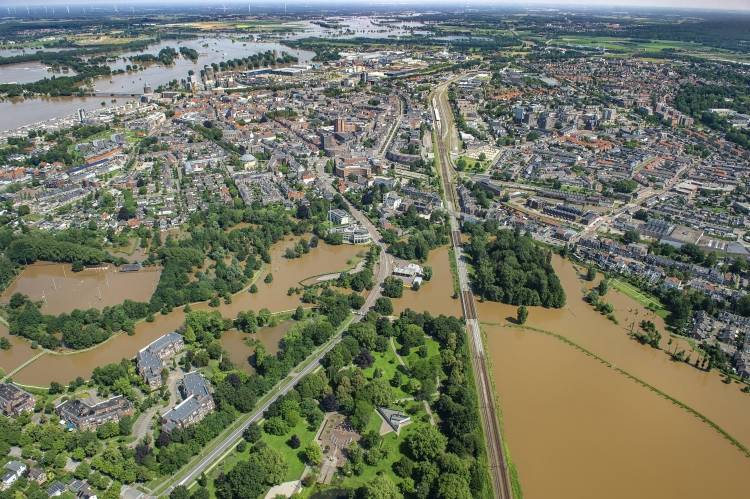 Photo: Provincie Limburg. All rights reserved.
Due to the devastating effects of last year's flooding, the Interreg Euregio Meuse-Rhine (EMR) programme is freeing up a budget of EUR 6.9 million for a call for projects on water management with a deadline of March 15, 2022. This call addresses the competent public bodies and opens for initiatives working on cross-border water management, crisis management and spatial planning for mitigating flood risk.
EU funds of EUR 96 million
As part of the European Territorial Cooperation (Interreg), the European Union, together with the regional authorities, promotes projects in which partners work together across borders all throughout Europe. In the border region of the Netherlands, Belgium and Germany 13 cooperating regional partners are organising the programme and in the current programme period, Interreg Euregio Meuse-Rhine can fund projects with all in all EUR 96 million from the European Development Fund (ERDF). Funds from this programme period can still be paid out to Interreg EMR projects until the end of 2023.
The target of the call of project
The Interreg Euregio Meuse-Rhine programme supports projects in which partners are working together across borders and thus strengthen the programme region to become more crisis-resistant. Consequently, the projects selected for funding should actively address bottlenecks in the region and obstacles to cooperation in order to strengthen the potential of the Interreg EMR programme area.
Call
In view of the urgent need for sustainable flood protection, this call opens from February 10 to March 15, 2022, at noon. Public bodies in the border region between the Netherlands, Belgium and Germany are invited to apply for the funding with initiatives concerning cross-border water management, crisis management and spatial planning for mitigating flood risks. For this call, the programme provides a high funding rate of 90% ERDF.
The call relies on the lump sum principle and a simplified version of the application form is foreseen. The proposals can be either submitted in English or the 3 official languages of the programme. Furhter information can be found below as well as the download section of this website.