Zero Discrimination Day 2021
01 mrt 2021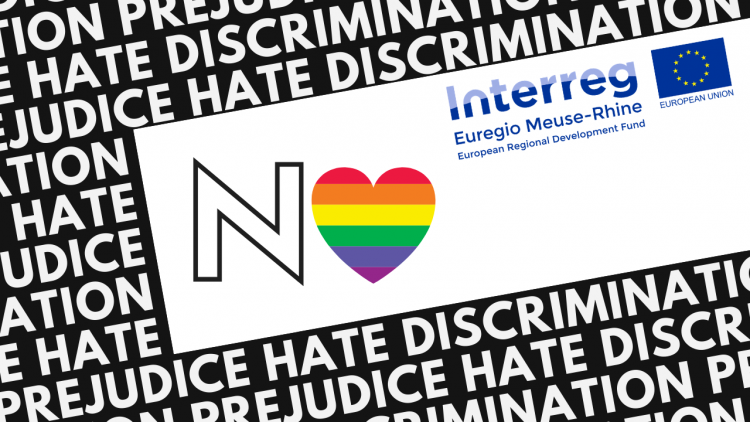 Today, Interreg Euregio Meuse-Rhine (EMR) celebrates the Zero Discrimination Day, a day that promotes respect, solidarity and peace. Find out how Interreg EMR contributes to an inclusive society and how our projects enhance equality within our region below!
Zero Discrimination and Interreg Euregio Meuse-Rhine
Mark Vos, the coordinator of our programme explains: "We support inclusive projects as everybody benefits from equality, solidarity and sharing." This is to say, we from the Interreg Euregio Meuse-Rhine office believe that our future in the Euregio Meuse-Rhine is one based on a diverse and equal society.
Equality, respect and solidarity are the fundaments of that society. As cross-border cooperation programme, we believe that this inclusive spirit can be fostered by working together across borders.
Social Inclusion and Interreg EMR
That is one of the reasons why we specifically support projects that aim at social inclusion and education during this programme period and it is also why we feel so strongly about our Interreg Euregio Meuse-Rhine community: This community is united by the deep belief that no border should ever prevent the exchange of resources, ideas and knowledge.
Our Interreg EMR projects directly help against any sort of discrimination by supporting social inclusion and education of those who are underrepresented, minorities, and vulnerable groups. Find out more about some of our projects below!
Meet our projects:
CORESIL:
People with disabilities, as well as other vulnerable groups and the elderly are most affected by the Corona pandemic. While we cannot change the fact that the coronavirus affects these groups disproportionally strongly, we can positively influence the way we continue to offer services that help and integrate these vulnerable groups. The Interreg EMR project CORESIL promotes a coherent offer for recovery and autonomy for the elderly, people with disabilities and others. Find out more here.
N-Power:
Discrimination starts on a local level and is also accelerated by less developed neighbourhoods. N-Power supports innovative 'neighbourhood development policies' enabling cities in the programme area to effectively reintegrate their 'excluded' neighbourhoods and populations in a creative, inclusive and sustainable development pathway. Find out more here.



MOBI:
The MOBI-project offers help to people who have been diagnosed with at least two disorders in order to increase their integration in the Euregion Meuse-Rhine. They are working against any sort of disability discrimination. Find out more here.
TREE:
Our Interreg EMR project TREE facilitates the integration of new migrants into society by improving the qualification of the practitioners. These practitioners dealing with refugees are the target group. The project developed a programme of training modules that will help practitioners, whether they are professionals or volunteers. Find out more here.

euPrevent Senior Friendly Communities:
The project 'Senior Friendly Communities' faced the social and economic challenges resulting from demographic changes in our region. The project worked against the discrimination and exclusion of the elderly. Find out more here.

IDZ-UDZ:
In the last three years, In de Zorg – uit de zorgen (IDZ-UDZ) integrated refugees as employees in the care sector and has given them a new life. IDZ-UDZ said no to racism in any shape or form and has worked hard to create an integrative environment in our Euregio Meuse-Rhine. Find out more here.



youRegion:
The programme youRegion is another project that does a great job at creating a welcoming culture within our region. The programme helps everyone who newly arrived in our region to feel at home and part of a community. Find out more here.



EUR.friends:

One vital aspect of fighting discrimination is providing better education as well as learning from each other. That is why EUR.friends works to significantly reduce the number of early school-leavers and at the same time increasing the number of cross-border in-company placements. Find out more here.
About the Zero Discrimination Day
The Zero Discrimination Day is an annual event that the UN, WHO, the European Union and others celebrate worldwide after it has been launched by UNAIDS in 2014. Unfortunately, discrimination based on race, age, gender, nationality, sexual orientation and religion is still widespread. We can all help by speaking out against injustice and standing together in the fight against discrimination, prejudice and stigma. At Interreg EMR, we are committed to supporting those who face discrimination in our community through our projects.